Dear Valued Patients and Friends,
As we all remember, the Covid-19 pandemic was declared in March 2020. We have all gone through times of uncertainty about how to manage our lives knowing that Covid-19 is still present. The federal Government has recently declared the pandemic "is over." That does not mean the SARS Covid-19 virus has disappeared. Therefore, we will still practice a higher level of personal protective measurements (PPM).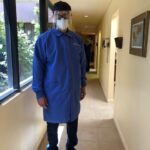 Current office protocol includes;
We ask that you have a scheduled appointment prior to arriving at the office.  We cannot accommodate walk in visits.
If you have a fever, cough(Not related to seasonal allergies), sore throat, muscle pain, nausea, anosmia (loss of smell or taste) or profound fatigue, call our office at (520) 795-2882 to cancel your appointment.  Contact your medical provider to seek attention and care recommendations.
Reschedule your dental appointment if you have traveled overseas or visited any endemic area within the past 30 days.
Plan to arrive on time for appointments, not early, to minimize waiting in the office and to prevent increasing the number of people present. We will do our best to stay on time for you.
We have hand sanitizer available to use as you enter the office.
While all of these are impositions, please understand that we are clearly concerned about your safety. Masks are no longer required while in the office. We have masks available upon request. We ask that each person he respected for their choice to wear or not wear a mask.
Please understand that we are clearly concerned about your safety and will be constantly staying updated about best practices for disease mitigation.
If you have a positive diagnosis of having Covid-19 within 14 days of having been in our office for treatment, please notify us immediately at 520-795-2882.
Around the office you will notice air purifiers with HEPA and carbon filters. The air passes through ultra violet light to help kill airborne viruses. Our staff will still wear masks in the office. There will still be no reading material in the reception room. The reception room has fewer chairs and they are spaced further apart. Our office has always practiced universal precautions for infection control. We use as many disposable supplies as possible. All reusable items go through a heat and pressurized steam sterilization process. The treatment rooms undergo an enhanced cleaning and disinfection process between patients.  All high touch areas will be cleaned and disinfected throughout the day. The treatment areas are treated with a disinfectant fogging between patients and at the end of the day.  Staff will change outer apparel between patients if there is a procedure done that produces an aerosol. 
We look forward to seeing you and will be happy to answer any questions you may have about the steps we take to keep you and every patient safe in our practice. Rest assured we will strive to continue to do our best for you.
Sincerely,
Ray Harrell, DDS and Staff